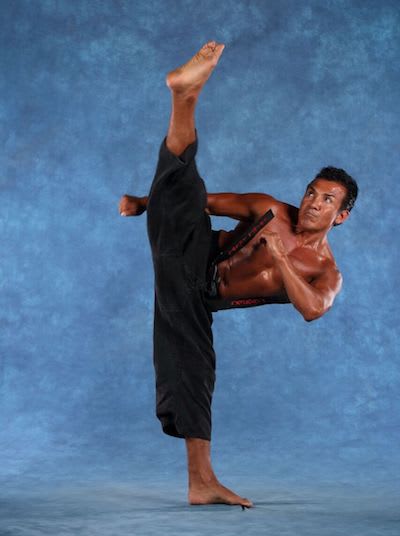 Armando Anselmo
To become a champion, you must train hard everyday. That passion must become the driving force behind how one intimately connects with their sport. For Sensei Armando Anselmo, karate is not just a sport, but rather a way of life. "To me, I cannot live without my art, karate is my air" (Sensei Armando Anselmo).
It takes a true master to achieve the feats of Sensei Armando. Beginning at the age of four, Sensei began his journey with martial arts. Having lots of energy and a penchant for "getting into things," his father thought it best to introduce him to karate. Always trying to be the best, he pushed himself physically and mentally. His karate training consumed most of his time. Due to his Father's influence, Sensei Armando also enjoyed spending his time watching kung fu movies. At the age of 12, he watched the movie "The Octagon," starring Sensei Tadashi Yamashita. He grew a deep admiration for the way Sensei Yamashita applied his movements during fight scenes. Little did he know, that years later he would become one of Sensei Yamashita's best students. Even though he excelled in karate, Sensei Armando was intrigued by the speed and agility of Tae Kwon Do. He began training and excelled quickly. His success in tournament competitions really started to show off his talents. Altogether, his years of hard work and training have earned him many titles which include National and International Championships.
However, life was not always glorious for Sensei Armando. As a young boy, he was often left to care for his two younger sisters while his parents worked. At the age of 14, Sensei Armando's Mother made a choice that would impact him even further. His Mother decided that in order to create a better life for their family she had to move to America without them. The stress of his Mother leaving and the responsibility of caring for his sisters was a heavy burden for Sensei Armando. Despite these obstacles, Sensei was determined to become a champion in the art of karate. He was so dedicated to his art that he would take a two-hour bus ride in order to train. While he prioritized his martial arts training through the years, many of his friends fell prey to the dangers and entrapments of the streets.
In 1990, Sensei Armando moved to the United States in order to pursue The American Dream. However, achieving this dream was not easy at first. Sensei had to overcome the barriers of language. For many years, he did not speak a word of English. Although this transition was difficult for Sensei, his dedication to the art of karate continued. When he began teaching martial arts in America, he became frustrated that he needed a translator. So, at the age of 28, he began to learn a completely new language so that he could truly make it in the United States. After years of watching and learning other martial artists run their dojos, Sensei Armando decided that he wanted to do the same. In 2003, he started Champion Eyes with a just a handful of students and a dream. Within a short period of time, his business grew because of his continued hard work. His student's skills are forged with Sensei's values of focus, discipline, and dedication. Sensei Armando has truly mastered the skills of a champion, not only within himself but also through his students at Champion Eyes.